By Shyaam Raawool
Director –Indian Institute of Knowledge And Development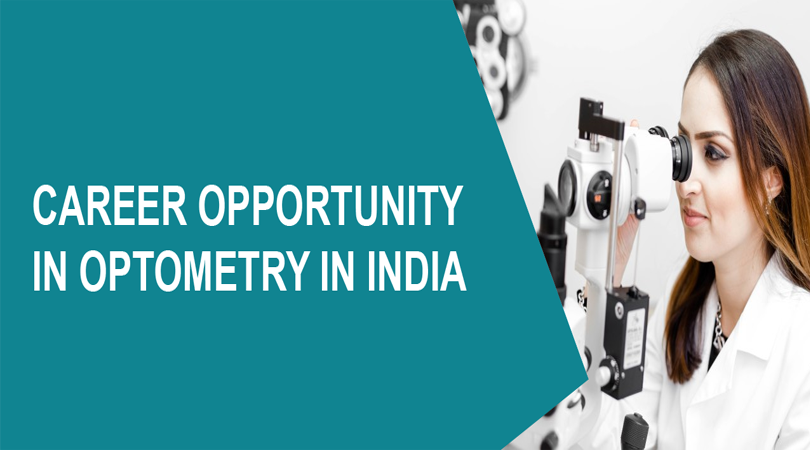 Prior to the outbreak of the Covid Pandemic, surveys say that Indian students spent an average of 3 to 4 hours per day in front of a screen, mobile or TV. But recently due to online studies this time has substantially increased. More than 65% of students use their mobile for online studies. As per medical research Overuse of mobile devices by young children can lead to myopia (short-sightedness). Besides myopia, there are also less common eye conditions that may arise after a prolonged period of screen work. These include convergence or accommodative insufficiency, in which the ability of the eyes to converge (turn inwards towards each other) or to focus well on near objects is impaired. This may cause symptoms like eye fatigue and sometimes even double vision. This prolonged use of screens by youngsters increases the demand for ophthalmologists & Optometrists.
Qualified optometrists have diverse job opportunities available in front of them. If one wants to work at Eyecare clinics or ophthalmic departments of hospitals, he may work under Ophthalmologists and assist them. Or he may practice Optometry under a supervised or an independent setup.
Optometry is a healthcare profession that focuses on eye care, vision, and visual system. An optometrist is a healthcare professional who is capable of prescribing and dispensing vision correcting lenses, spectacles, diagnosing eye disease, and treating them (to an extent).
 Both Optometry and Ophthalmology deal with eye care, but Ophthalmologists are eye Doctors (specialized in eye care after completing MBBS) whereas optometrists are not considered as eye Doctors.
An optometrist is capable of diagnosis of ocular diseases. But he/she will have to refer the case to a qualified doctor if the patient needs surgery or an advanced treatment. If the problem can be corrected by lenses, spectacles or minor treatment procedures, an optometrist may take care of the patient.
If patient is suffering from refractive errors in their eyes, an optometrist may examine such patients, find the error and dispense lens or spectacles to correct the error. But if the condition is serious and needs clinical intervention, an optometrist will have to refer that case to a relevant Doctor.
In Bharat, Optometry courses are available in three main formats – Certificate Courses, Diploma Courses & Bachelor's Degree Courses. To work as a qualified Optometrist and achieving a good career growth, pursuing Bachelor's Degree courses would prove beneficial.
How to become Optometrists?
Diploma Courses: It is two years duration course. You can pursue this course after completing your 10+2 with Physics, Chemistry, Biology & English.
Certificate Courses: This course is of 1 year duration.
Bachelor Degree Courses:
Optometry (B.Opto)
Bachelor of Science (Sc)
The duration of these courses is 4 years. The student has successfully completed H.S.C./10+2 or equivalent examination with Physics, Chemistry, Biology or Mathematics & Pass in English.
Master Degree Courses:
Master of Optometry (M.Opto)
Master of Science (Sc)
A/ M.Sc. (5-year Integrated) Courses
M.Opto & M.Sc are two years duration regular full-time course. For admission in these courses, students have to pass Bachelor degree in Optometry or equivalent course from any Indian University.
A Bachelor of Optometry or B. Optometry or B.Sc. in Optometry is a 4 – year undergraduate course that has been designed to educate students on the examination, diagnosis, treatment of the eyes and its connected organs. The program seeks to provide a thorough understanding of the diseases of the visual system, how to diagnose and treat them, etc.
After the 3 years academic training, students have to go through a year long internship. Only after completing the internship, he will be recognised as a qualified Optometrist.
Students who have completed their 10+2 with a minimum of 50% marks in aggregate in Science stream (PCMB) are eligible for this course. Colleges mostly offer admission through merit, only a few conduct entrance exams. Many colleges also offer admission on the basis of NEET scores. Students who have completed 2 years Diploma in Optometry course may secure admission directly in the 2nd year of B.Sc. Optometry program. This entry is known as the lateral entry
Further study options: Post completing 'Bachelor's in Optometry' students can complete 'Master's in Optometry'. And those who have completed 'B.Sc. in Optometry' can further complete 'M.Sc. in Optometry'.
What is the Fees range for Optometry Courses?
The average annual course fee ranges from about Rs.10,000 to Rs. 1,50,000 depending upon the college.
What is the Salary potential for Optometrists?
The highest annual salary of approximately INR 8,00,000 can be expected which is based on the experience level of the graduate. Also, an approx. average annual salary of INR 4,00,000 can be expected.
What is the Career Progression for Optometrist?
There are many options available in the career as optometrist.
Community optometrist: Most optometrists work on the high street, carrying out eye examinations on patients of all ages with all kinds of conditions, and advising them on how to look after their eyes and vision. Individuals who opt for a career as Optometrists can lead in many roles that include teaching grassroots level community eye care personnel, epidemiologic and operations research on various issues related to refractive errors, spectacles use, and coverage and also evaluate rural eye care programs.
Hospital optometrist: Hospital Optometrist- A hospital optometrist takes primary eye care of the patient. They are responsible for performing tasks like checking the vision sharpness of the patient as well as prescribing corrective lenses. He or she must also have the capability and knowledge to use the several eye equipment used in this process.
Optometrist Researcher: An individual who has done Ph.D in the field of optometric qualifies to become an optometrist researcher. An optometrist researcher is a healthcare professional who researches various eye defects as well as their corrective measures.
Domiciliary optometrist: Domiciliary optometrists get out into their local community – making sure that those who can't visit the examining room can still receive high-quality eye health care. Domiciliary optometry takes eye health care out of the examining room and into patients' homes, care homes, and community and daycare centres.
Which colleges offer Optometry Courses?
ITM-Institute of health Science-Navi Mumbai, (Maharashtra)
SNDT women's University – Churchgate, (Maharashtra)
The Lotus College of Optometry – Juhu, (Maharashtra)
Kohinoor College of paramedical science – Kurla. (Maharashtra)
Bharti Vidyapeeth University, Sangli (Maharashtra)
Hari Jyot College of Optometry, Navsari (Gujarat)
Himalayan University, Itanagar (Andhra Pradesh)
Al Salama College of Optometry, Kozhikode (Kerala)
Elite School of Optometry, Chennai (Tamil Nadu)
Chitkara University, Solan
Maharshi Marakandeshwar University (MMDU), Ambala
Rajiv Gandhi Paramedical Institute (RGPI), New Delhi
Manipal University, Manipal
NIMS University, Jaipur
Optometry is a great career choice for many reasons, including work-life balance, the ability to help others and opportunities for growth. Optometry is the course which gives you the opportunity to become an employee as well as an employer!